Aug 2023 Updates: Fundamental screeners & Watchlist updates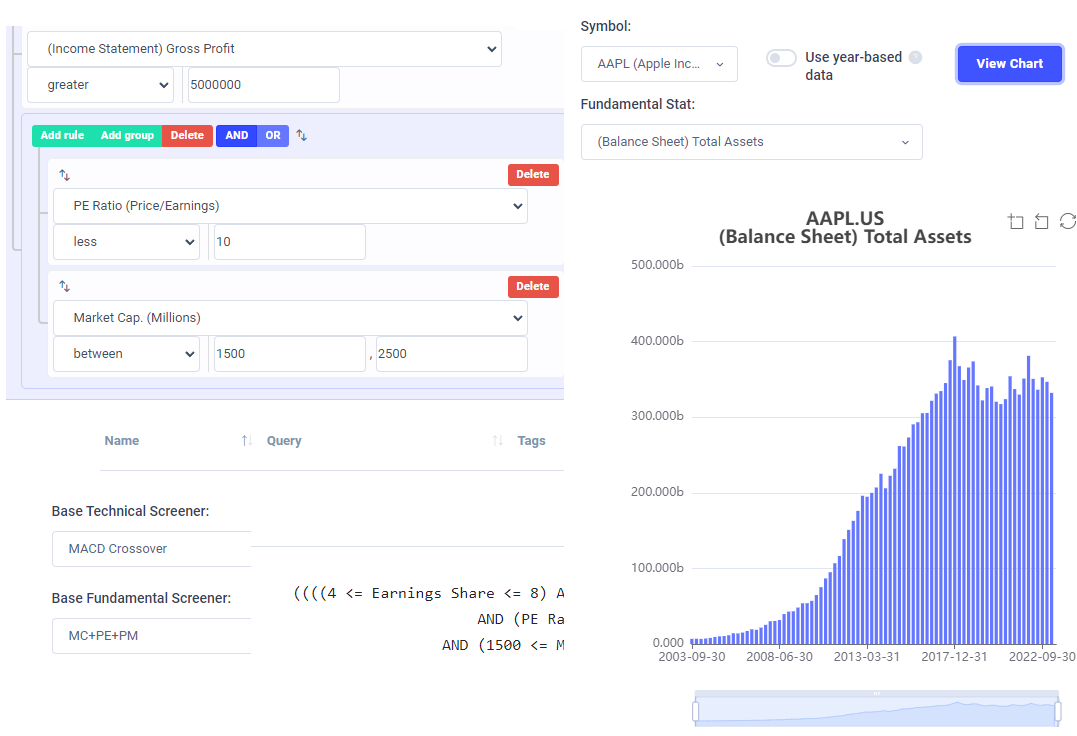 When we launched EZstockscreener, our focus was to create the most extensive and flexible technical screener on the market. With over 70 technical indicators and functions, there is no other platform that can match the level of screening capability of EZstockscreener when it comes to finding stocks to trade every day.
With recent advancements in how well-integrated platforms are and how traders are trying to leverage multiple data sources, we thought we should improve EZstockscreener by adding an easy-to-use fundamental screener that can be used in tandem with the advanced technical screener we have.
The new fundamental screener is the star of this upgrade. You can learn all about how to use it in our dedicated blog post.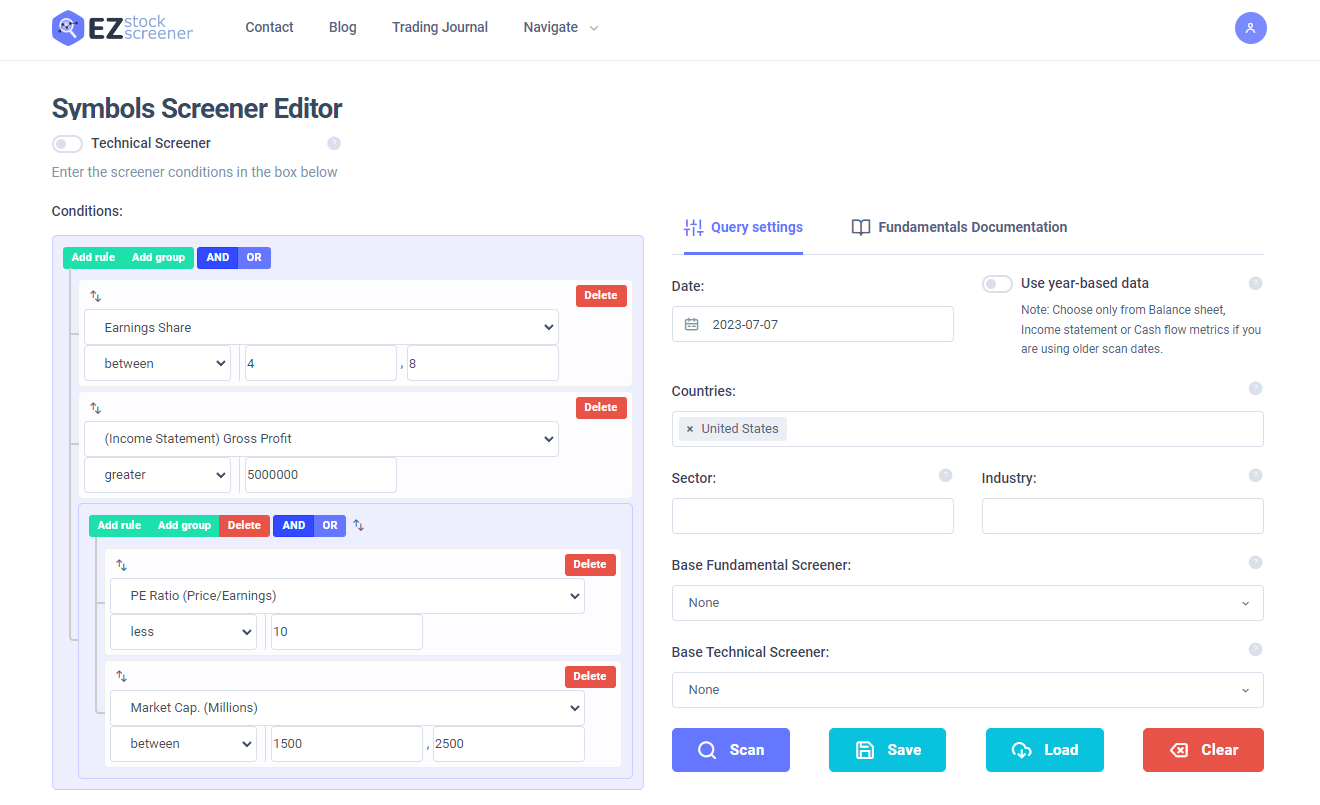 Here's a summary of the features:
Easy to use intuitive drag-and-drop fundamental screener builder
150+ statistics to screen from (balance sheet, income statement, cash flow, etc.,)
All historical fundamental data also available for screening
All screeners can be saved and loaded at any time
Year-based or Quarterly-based fundamental screening is available
A fundamental screener can be used as a base for technical and vice-versa
Full documentation for every fundamental metric is available: https://ezstockscreener.com/fundamental-metrics/
In addition to this feature, we have also created a new page to explore the fundamentals for ANY stock: https://ezstockscreenr.com/fundamentals_view/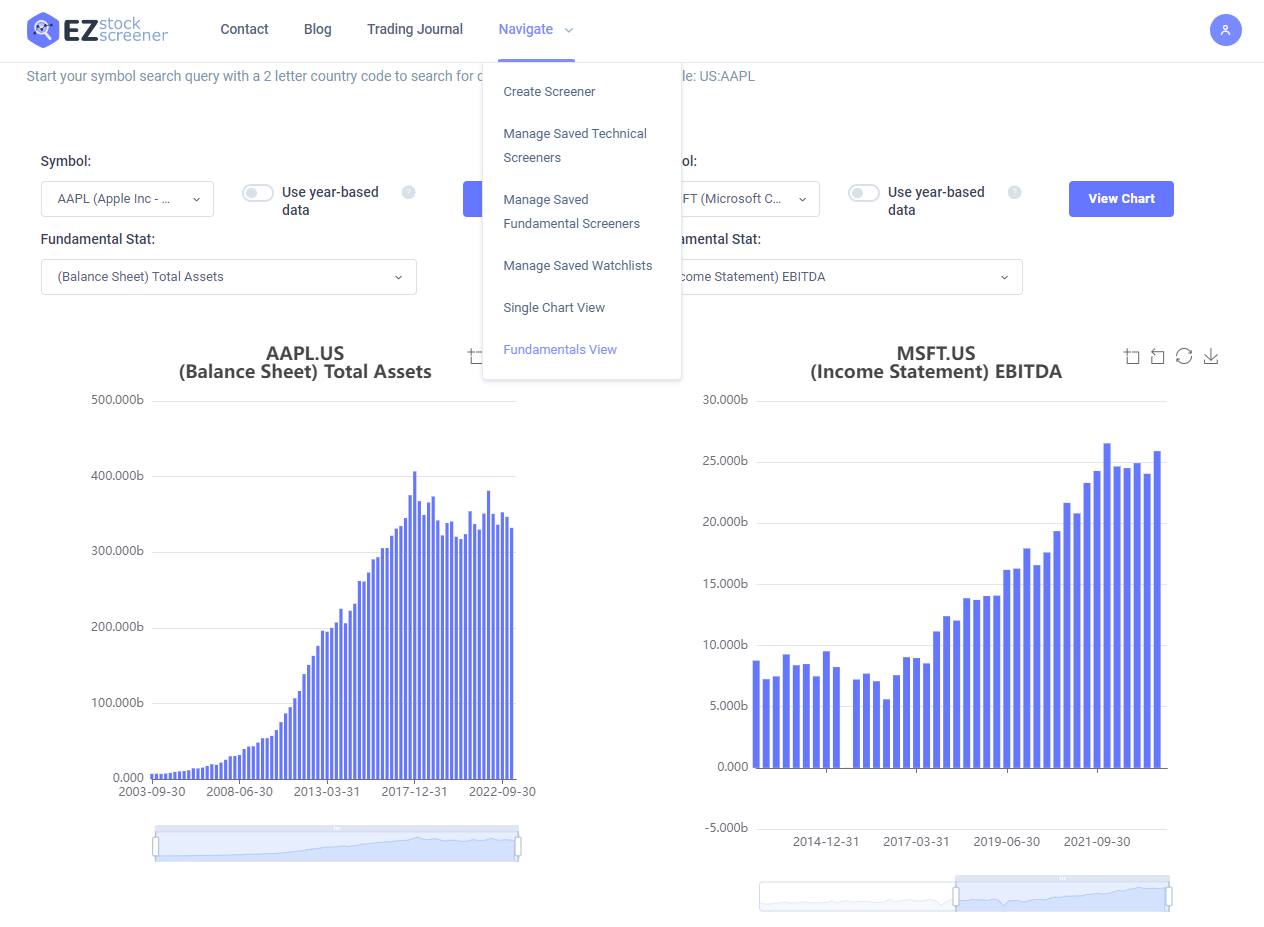 The goal of this tab is to help traders visualize ANY fundamentals of ANY stock and learn how the trend can help them invest/trade. It is possible to zoom in on a particular period and choose up to 4 unique symbols on the same page. This can be combined with the improved chart view to view stock charts in the same way: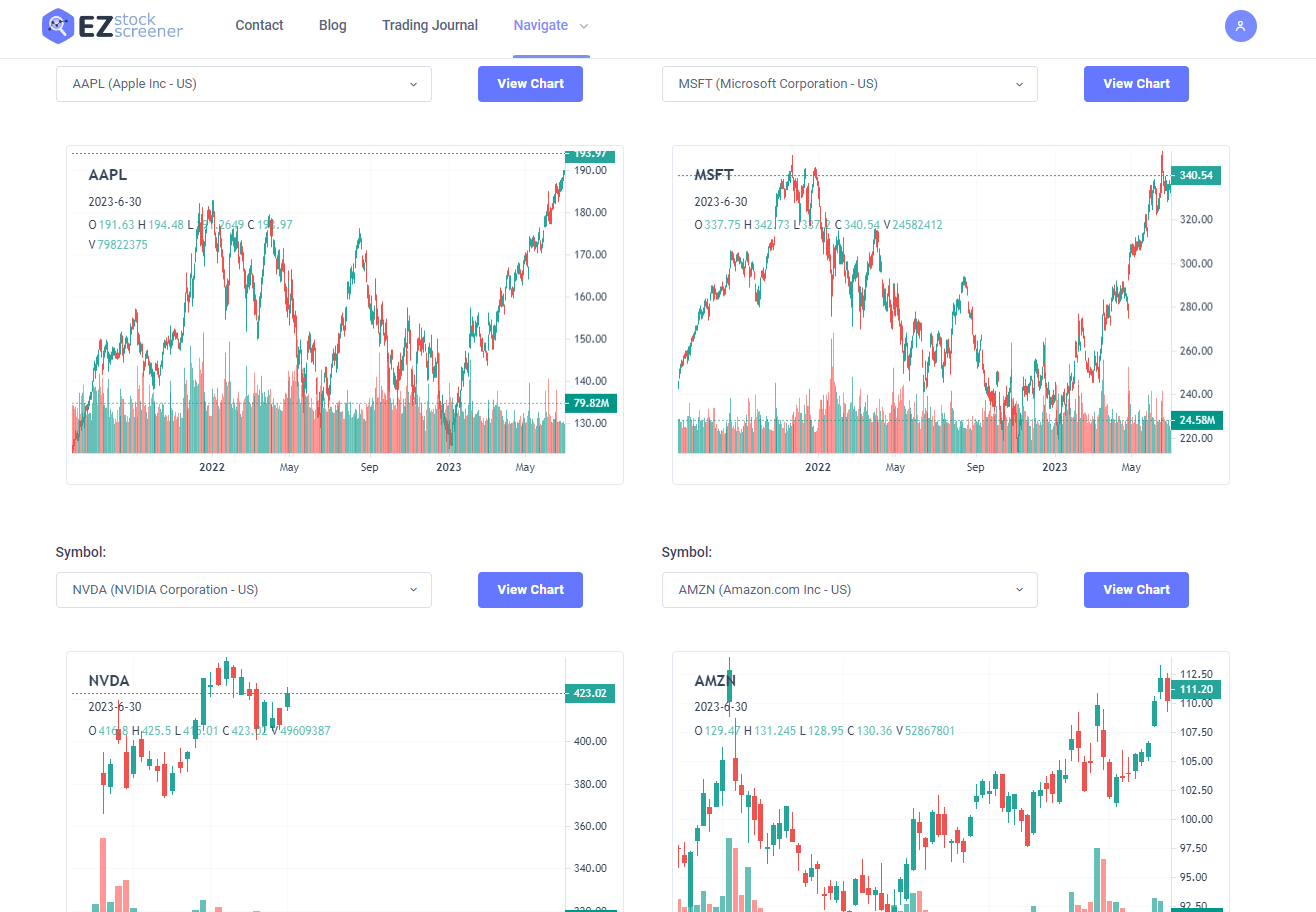 Once again, the focus is on keeping the interface simple and easy to learn while having an incredible amount of flexibility and freedom when it comes to screening for stocks - now, both via technical and fundamental analysis.
Finally, we have added the ability to view charts from the watchlist page itself. Visit the watchlist page by clicking on "Navigate" dropdown at the top of your dashboard and then the "Manage watchlist" option.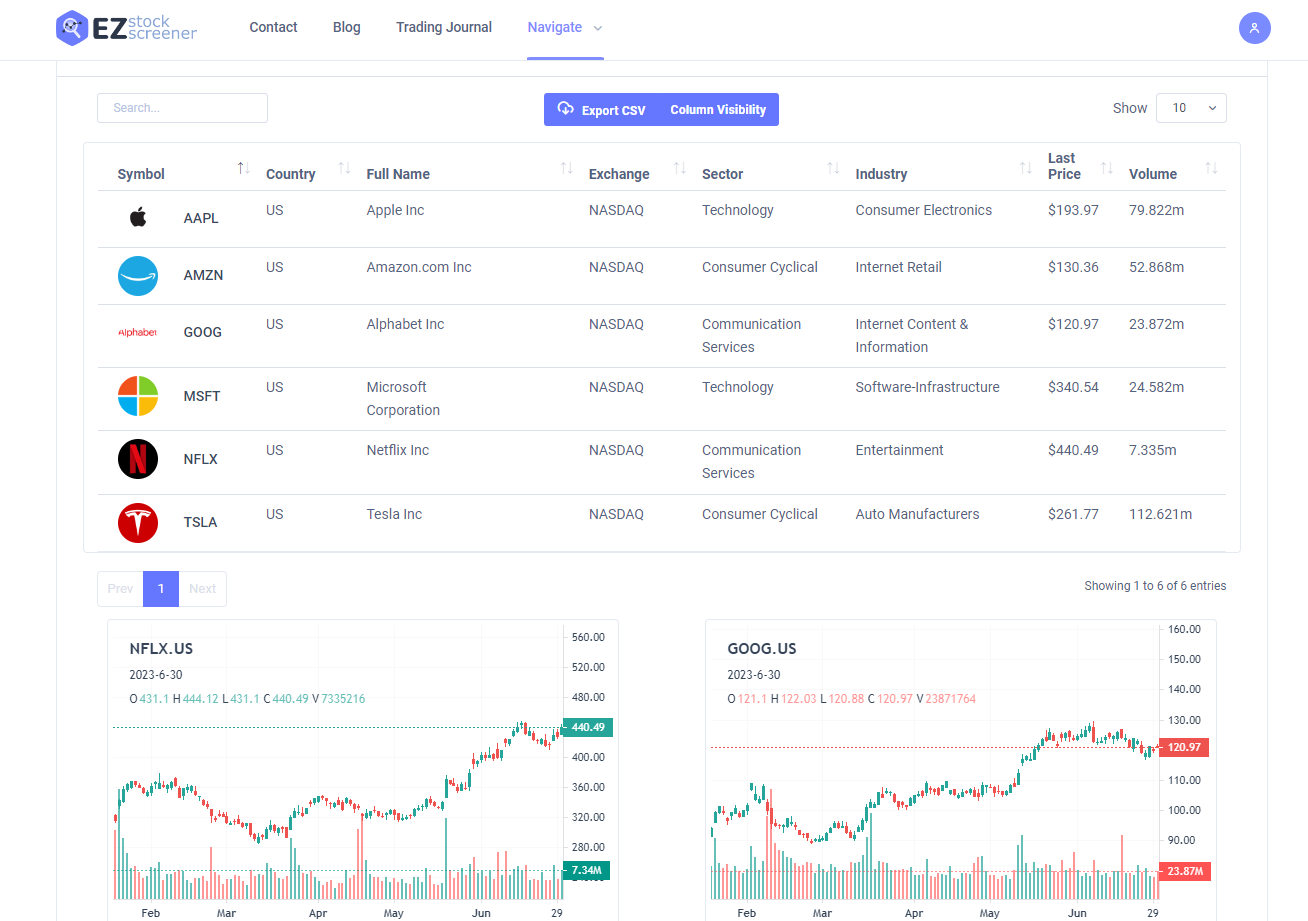 Another minor QoL update is, you can also enter watchlists as a list of comma-separated strings or even copy and paste a tweet with $-tag-based symbols. The system will automatically extract the symbols from the tweet.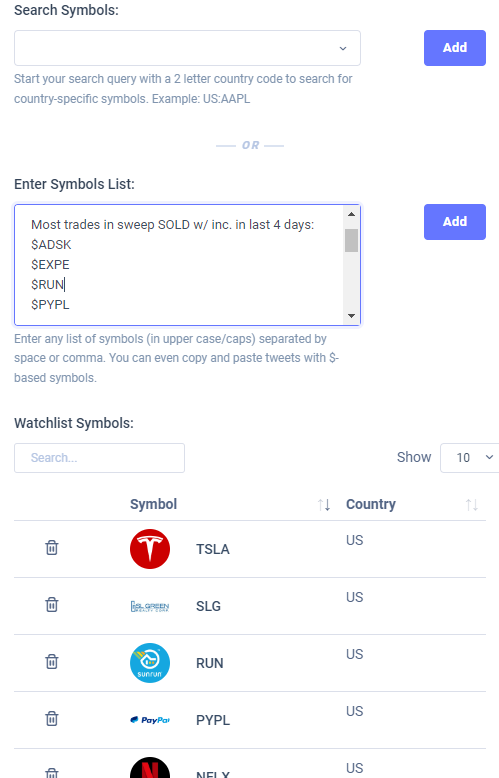 In the last 1.5+ years, we have spent most of our time and resources on taking the field of trade journaling to the next level with TradesViz. Trading simulation for all charts, the world's first AI journaling analysis, 100% flexible charts, pivot gid, and a lot more groundbreaking features were developed on TradesViz. With constant support and feedback from our users, TradesViz is the top trading journal in the world in a lot of areas with ZERO competition. We've had incredible growth on TradesViz and more users are starting to use EZstockscreener as a result. Due to this, we wanted to shift our focus on adding more utility to EZstockscreener also.
With the launch of the fundamental viewer, you can:
Journal your trades on TradesViz
View ALL fundamentals on a single page on TradesViz
Screen for stocks using options flow on TradesViz
Create highly custom and flexible technical stock screeners on EZstockscreener
Create watchlists on EZstockscreener
Learn about fundamentals trends of any stock on EZstockscreener
.... and a LOT more
Instead of having accounts on 10 different products and paying outrageous subscription costs, check TradesViz.com and EZstockscreener.com - we are constantly improving and providing value to tens of thousands of traders all over the world. We would highly appreciate your feedback and support!
All the updates on EZstockscreeer are included in the Pro plan. We hope, with this, we provide more value to both TradesViz and EZstockscreener users!