How to create a fundamental screener

EZstockscreener has the most advanced technical screener that allows you to screen 30,000+ stocks across 4 countries and ~10+ exchanges and find stocks to trade every single day.
On top of having multi-market support, our unique technical screener query system lets you create extremely specific and flexible screeners that are not possible anywhere else.
With this feature, we wanted to bring the same level of flexibility and uniqueness to fundamental data screening.
Why fundamental screening now?
Company fundamentals are becoming increasingly important in an era where every piece of information matters. Only the traders who leverage all available information can be successful.
How can I use this?
Simple. You will find a new toggle button in your dashboard at the top left corner. Click on it to toggle between technical and fundamental screener modes.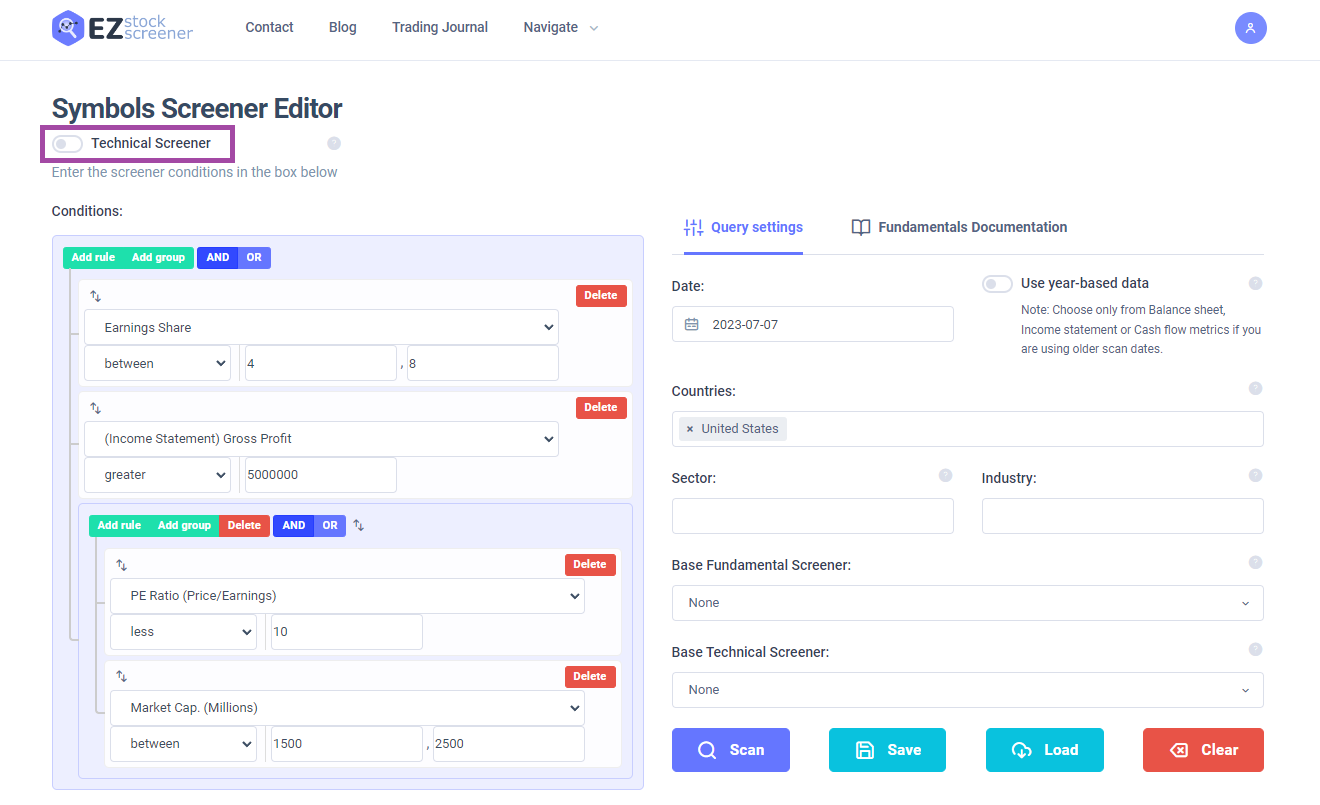 The screener construction UI is extremely simple to use with simple dropdowns and drag-and-dropable containers. Here are the rules:
Each condition can be any one of the 100+ fundamental metrics we have (income statement, balance sheet, cash flow, and other statistics)
You can group the metrics to create any combination of screener
Here's a short video of the screener construction UI in action:
That's all you need to know when it comes to building a fundamental screener. Just create a conditions list and start screening!
About fundamental data
Our fundamental data is split into 4 parts:
All metrics you would find in the Balance sheet (these are prefixed by "(Balance sheet)" in its name)
All metrics you would find in the Income statement (these are prefixed by "(Income statement)" in its name)
All the metrics you would find in Cash flow (these are prefixed by "(Cash flow)" in its name)
All other metrics (these do not have any metrics)
If you want to learn more about financial statements, we suggest this guide: https://www.investopedia.com/financial-statements-4689816
We also have definitions for each metric on our fundamental metrics page and in the fundamental screener interface.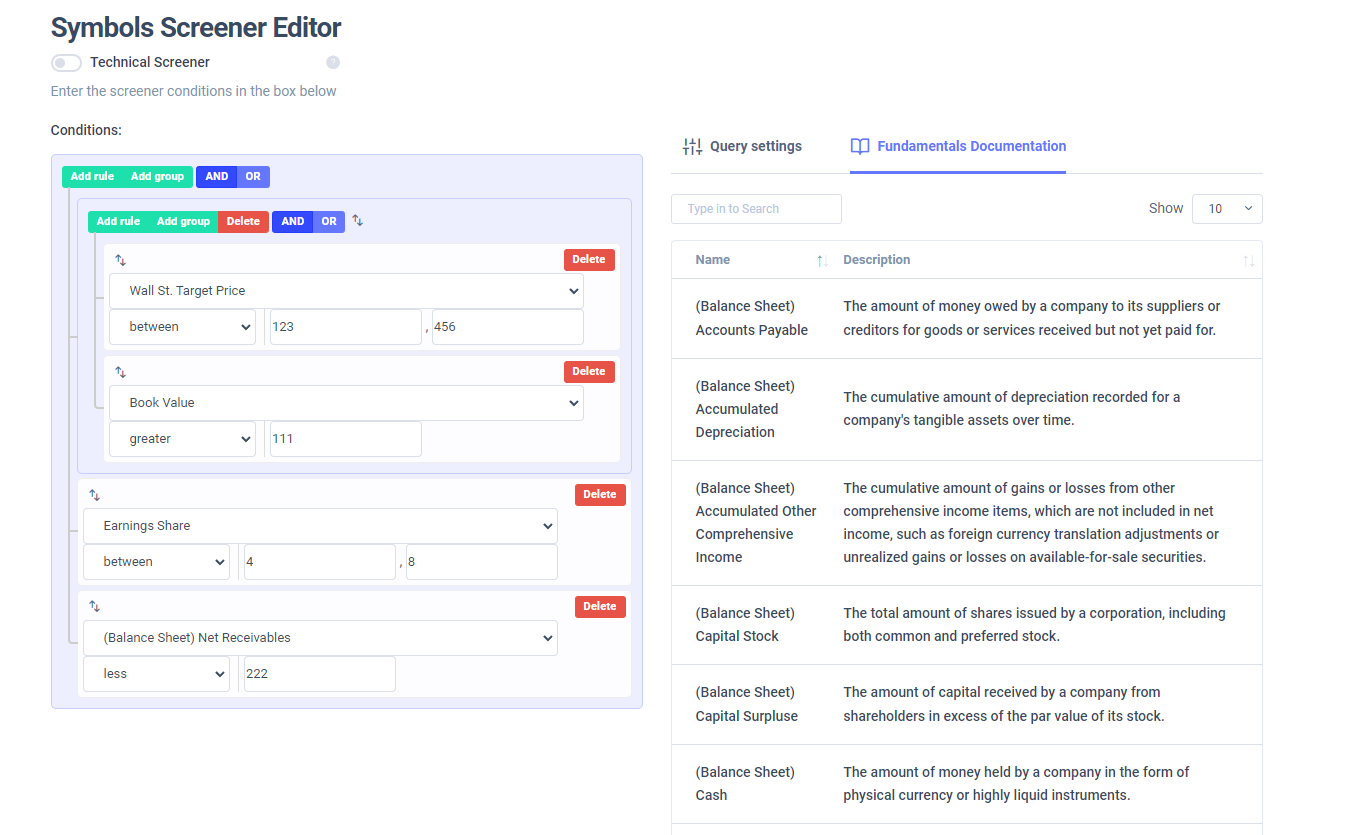 An important distinction is that the first 3 types (balance sheet, income statement, and cash flow) of data have 2 versions: annual and quarterly which you can switch in the screener interface. You will get the most recent report's numbers based on your scan date. For example, if the current date is 30th July 2023, and you choose a previous day of say, 4th May 2023 and, if you choose the quarterly view, you will see the data from the report on March 2023 (Q1 2023) because that is the latest date before the selected screener date.
The other metrics always show the current data only that is updated once every 10 or so days. Make sure not to use this in a historical screener setting as you will mix up recent and past data.
Other interesting features
As with the technical screener, you can do all the following functions in the fundamental screener section also:
Save, load, and delete screens from the screener interface itself
Manage/view all your screeners on a dedicated page: http://ezstockscreener/fundamental-metrics/
Use a base fundamental screener
In addition to the above features, you can also combine a technical screener on top of a fundamental screener. Historically, we have had a base screener for the same type - i.e a base fundamental screener for fundamental and a base technical screener for technical screeners but with our new update you can use any of your pre-saved technical screeners on the fundamental screener page as another level of filtration. The same is applicable to technical screeners where you can use a pre-saved fundamental screener as the base screener.
Finally, you may notice that backtesting is not a specific function in the fundamental screener page - this is because you can achieve the same result using a base fundamental screener on the technical screener page!
---
That's it for now! This is a huge upgrade to EZstockscreeer and with this, we think EZstockscrener is a complete - 100% screener solution for any type of trader across the world. Combine this with the advanced options screening capabilities of our advanced trading journal tradesviz.com and you should be set to trade with success every day in the market.